17 May 2019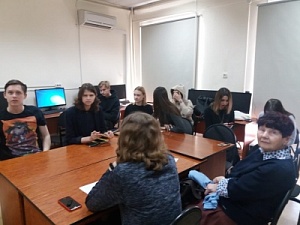 On April 19, 2019, as part of the project "Development of foreign language competence of TSU students", the English-speaking student section of the conference Urgent Problems of Journalism, named Discourse of English-Speaking Media, was held at Higher School of Journalism of TSU.
The second and third year students of HSJ (groups 2472, 2462) presented the results of their research in different areas of journalism showing high presentation skills in English. There were approximately 30 participants and 10 speakers, the list of whom you can see below:
1. Nguyễn Thế Hòa – The States of Game Journalism
2. Pushkaryova Yelizaveta - Details in Documentary Photography
3. Osipkina Ksenia - Designing a Zine for a Network of Coffee Shops in the city of Tomsk
4. Melnikova Alyona – Youth vs. Theological Seminary
5. Morozova Tatiana – Infographics about FC Tom
6. Lebedeva Anastasia – Art Deco Fashion Illustration in 1920-1930s
7. Galochkin Sergei – Journalism in the Age of Mobile Media
8. Zemlyanova Daria – Ways of Covering Religion Theme in Documentary Photography
9. Dementieva Margarita – The Influence of Fashion on Media
10. Yurtayeva Irina – Data Journalism
The section was organized and supervised by the lecturers of the Faculty of Foreign Languages, Galina I. Shostak, Olesya V. Pyanzina, and Vladimir V. Vozdvizhenskiy.