14 May 2019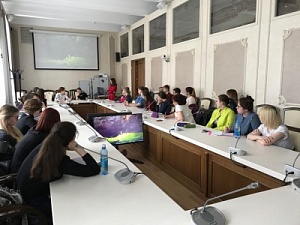 On the 8th of May in TSU Research Library first and second year students of Biological Institute, the participants of the project "Foreign language competence development of TSU students", and their English teachers Elena A. Melnikova and Elena V. Vychuzhanina, had a great opportunity to meet TEDx speakers, Zhanna Lagunova and Eva Burbo. During the conversation, the comers watched the videos of the ladies' speeches given at a TEDx event using the TED conference format and could address any questions to the speakers. In addition, Zhanna and Eva shared their great experience of studying abroad, learning extra languages and making public speeches.
In TEDx performance and later in discussion, Zhanna told about amazing discoveries and difficulties of studying abroad, why it's worth trying and how this experience can change the look at many things, as well as at oneself. She pointed that in studying in another country it doesn't matter if you`re young or middle-aged, not very successful in studying or have no enough money. But, it is important to be curious, patient and persistent. Thus, anyone can find their path to success.
Eva, who speaks 6 languages, told about her vision of learning foreign languages. She is convinced that if you study a new language, you should be passionate about it and speak from your heart, and then there will be no problems with learning words and phrases. She also mentioned the importance of learning new languages – learning languages gives you an opportunity to broaden horizons, communicate and learn more about different cultures.
They both told about culture difference and self-development through challenges that all of us may meet on our way. The meeting provoked true interest of students and was extremely fruitful and cognitive.
Timofey Ponomaryov, a second-year student says: "Eva and Zhanna inspired the students to try themselves in finding opportunities and studying languages and make their lives brighter and more interesting. Whether or not, every participant of this meeting now has a clear vision about the discussed topics".
The participants express their gratitude to Asiya Boltovskaya, an organizer of the meeting, and TEDx speakers Zhanna Lagunova and Eva Burbo for holding such an amazing event.