7 May 2019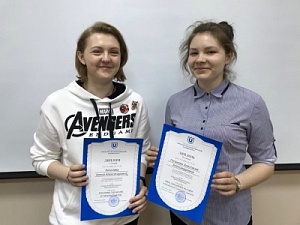 On the 26th of April, 2019 a few students of Biological Institute of Tomsk State University, who are the participants of the project "Foreign language competence development of TSU students", took part in the International Conference "Social Sciences Today: Current Issues and New Horizons".
Anastasia Giganova, Arina Kiselyova (2-year students) and Beatriz Soares (1-year student) presented their reports at the English-Speaking Session "Scholarly Writing and Presentation". Being biological students, the girls managed to reveal Natural Science issues through the social dimension. The audience was intrigued at first and then involved in the discussion. The students were given a lot of questions and comments after their presentations.
The participants of the project "Foreign language competence development of TSU students" worked on their presentation under the supervision of assistant professors of the Faculty of Foreign Languages Elena A. Melnikova and Elena V. Vychuzhanina. And we are delighted to announce that Arina Kiselyova (Gr. 01702) became the winner with her presentation "Explaining the nature of procrastination". The students and the experts who were present at the Session found out a lot about the essence of this phenomenon and the tools to overcome the consequences of such self-ruining behavior.
Also, we are pleased to congratulate the two other girls (Beatriz Soares, Gr 01801 and Anastasia Giganova, Gr. 01702) who were awarded the first and second runner-up prizes. "Today's conference was very important not only for the people presenting, but for those listening. To discuss and hear how different people talk about particular social issues is a great step towards growing one's mind and knowledge of the world. Especially when these people come from diverse places. I liked it very much, I always like participating in conferences where I am allowed to talk about which issues I think are most pressing, and to see which issues others have chosen and their reasons behind it," wrote Beatriz.
According to another participant of the conference, Maria Camila Gomez Ruiz, "such conferences give students the chance to expose and discuss different topics that are important to create awareness in the society as well as their academic life." Camila believes that it is very useful for students because it gives them an opportunity to get close to debates and defend their points of view in front of an audience.