9 April 2019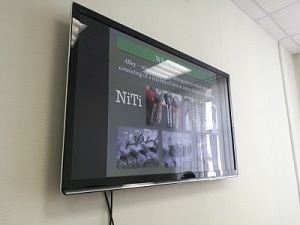 April 4, 2019, Master's student of the Faculty of Physics held a workshop on shape memory effect.
Aida Tokhmetova introduced the topic to the students of group 05742.
Aida is doing her degree at the Department of Physics of Metals and is studying alloys, their properties, and applications in medicine and industry. During the workshop the second year students knew that Tomsk physicists were the first to discover the effect and make implants. An implant is cooled, inserted into the body, and then heated up to the body temperature. Implants are used to "repair" ribs, spine, joints. The composition of the alloy is compatible with the bone structure, therefore bones accept the implant and function normally.
Aida even demonstrated the shape memory effect.
The attendees were satisfied with the workshop. They continued discussion in the classroom and talked about toxicity of the alloy and possible limitations or discomfort it might cause, wear-resistance.
Aida said it was a new experience. She had never held a workshop or seminar in English. "I have only positive impression of the workshop because, first of all, it is essential for my research and future career. Thank you for the opportunity", shared Aida.
A series of workshops is organised by Olga Obdalova and Alexandra Dusheiko within the Project"Foreign Language Competence Development of TSU students".