29 March 2019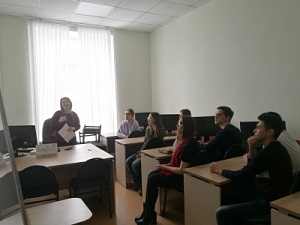 March 20, 2019, in the framework of the project "Foreign Language Competence Development of TSU students", a Master's Student at the Faculty of Physics Yuliya Salova conducted a master-class for the second-year students. Yuliya studies at the Department of Physics of Metals and does a piece of research on properties of high-nitrogen austenitic steel.

The master-class was planned perfectly, - noticed Aleksandra Dusheiko, teacher of English. Preliminary work with vocabulary items, content of the presentation, and a final quiz. I am grateful to Professor Olga Obdalova for preparing such a good student.

The students liked the master-class and became very interested in Yuliya's research.

05742 are very curious. They never let visitors go and continue asking questions, which makes Master's Students troubled, smiled the teacher.
Yuliya shared her impression: I was told that the group was proficient in English. I agreed to make a presentation because it is a very good experience in communication and helps to overcome the barrier. The students impressed me a lot. They spoke English as if they were native speakers.