21 March 2019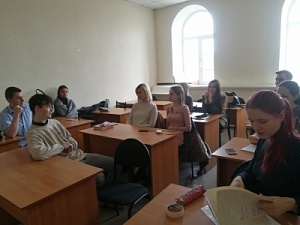 18 March 2019, Higher School of Journalism saw a press conference with the British students. Ad and Dylan are from London but study in Bristol. They arrived in Russia a couple of weeks ago to practice Russian. They agreed to come and answer students' questions.
I recon English is integral to the future career of a journalist, editor, or news presenter. Three classes a week is great but talking to native speakers is a must, admitted Aleksandra Dusheiko, English teacher. The students didn't know that they would have some guests. I was afraid that they would be confused and wouldn't say a word. But they surprised me a lot!
The British students admitted that Russian people are different. They don't smile at strangers, don't say sorry or please very often, and they are straightforward. The British are sarcastic. If they say it's not a bad idea, it means that the idea is terrible, whereas Russians says what they think.
There were also questions about cinema, theatre, music, fashion, tourist attractions, and budget travelling around Europe.
Eva Kineva and Anastasiya Istomina said that they had difficulty understanding but were very pleased. Margarita Kulikova and Ekaterina Prokoshkina noticed that the guests spoke extremely fast. Semen Golubev promised to take Dylan to a football practice. All the group invited the guest to cook okroshka at the weekend.