15 November 2018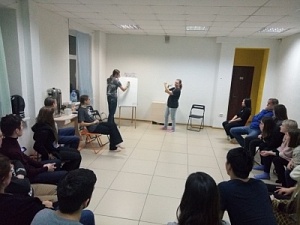 First-year students of the Faculty of Chemistry within the framework of the project "Development of TSU Students' Foreign Language Competence" decided to spend a cold Saturday evening usefully. Group 08803b with teacher Anna Sondor visited English Club 4U.
The meeting was conducted by three Americans. The atmosphere was pleasant, kind, cheerful, really encouraging to communicate. In the beginning, everyone met, then they played "charades" and competed in teams. Further, Katherine from Colorado made a presentation on the theme "Empathy". In the middle of the evening - a coffee break, after which there were board games.
It is very pleasant that the guests were happy to take part in discussions despite the fact that they were all of different ages, with different levels of English and saw each other for the first time. Although, it should be noted that there were many regular guests.
English Club 4U holds such evenings every Saturday from 18h. to 21h absolutely free! Many thanks to the organizers)).
- We learned new words, watched with interest the behavior patterns of the presenters, plunged into the foreign language communication environment and just had an unusual, useful and fun evening! For most of us, that was the first real contact with the Americans :)))! (Dasha Chabanova)
Students of group 08803b recommend attending such meetings with native speakers for anyone wishing to speak English live!