28 May 2018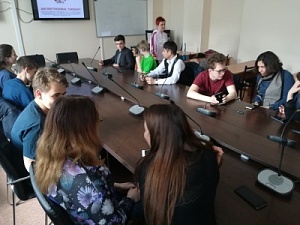 May 24, 2018 within the framework of the project «Foreign Language Competence Development of TSU Students» the second-year student of the Faculty of History of TSU Lazareva Valeriia hosted a workshop in English.
Valeriia started the meeting with a notion of "stigma" and the attitude of the society to HIV-positive people. The life of HIV-positive people in the society, their ability to establish a family and therapies they may have to ease their life were raised by Valeriia. The students had an opportunity to discuss the topic and share their ideas in English.

At the end of the workshop students said that it was interesting and useful. Though the information about HIV is well known it is important to draw attention to this topic.