15 May 2018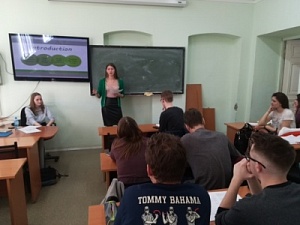 May 10, 2018 within the framework of the project «Foreign language competence development of TSU students» the third-year student of the Faculty of History of TSU Shakh Anastasiia hosted a workshop in English.

During the workshop students learned how to properly build their speech, what parts should be included in the speech. They learned more about the importance of considering features of the audience and presenter
'
s gestures and facial expressions. Anastasia supported her arguments with her own practical experience of making public presentations during her studies in the USA. In the practical part of the workshop students were given the opportunity to make their own speeches in English, which were prepared in small groups. Anastasia supported the first-year students, commented on all the speeches and gave advice on the students
'
future presentations.


Students enjoyed the workshop. According to them, information is useful, and training performances are important for those who usually hesitate to speak in public.