20 December 2016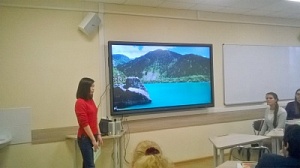 Today on the 12thof December 2016, at the faculty of Radiophysics, the students of group 766 had a special guest during their English lesson. The lesson was led and accompanied by a non-native speaker from Poland.
A wonderful girl from Warsaw, Marta Stepien, who is now a post-graduate student atTSU, kindly agreed to share insights with our first-year students on the most interesting facts about her country, its traditions, cuisine and history. The thoroughly prepared presentation about Poland was delivered in English language and was followed by a semi-formal discussionactively supported by students of Radiophysics faculty.It is interesting to note that after the presentation some of the students also reported about the countries and cities they come from, using facilities of power point (Bogachenko N., Vasin V., Volkova M., Voronin I., Gorin V., Zhidkih A., Zayiolda B.-B., Kasymova L., Mikhailova A., Pshenichnyh A., Shapovalov A., Sheshkil V.). As a matter of fact, today's English interaction turned out to be very lively, active and dynamic one. The students participated in discussions, performed confidently and asked interesting questions.
The class was leaded and organized by the instructors of English language Anastasia O. Karetina, and Yulia B. Kaygrodtseva. We look forward to having more international classes atRadiophysics faculty within the framework of the English Project at TSU.
To have a complete picture of the event seeimages from the following photo report.