24 November 2016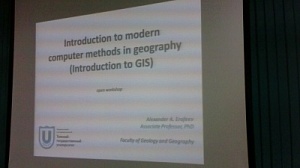 On the 18th of November 2016 the workshop called "Computer Methods in Geography" was held in English for the 1st year students of Geology and geography faculty (majoring at geography) as part of the project for English-speaking environment formation for the students of TSU.
The workshop was prepared and delivered by Aleksandr Anatolievich Yerofeyev, PhD in Geography, associate professor of the department of geography, faculty of Geology and geography of TSU.
The students managed to improve their foreign language competence in the use of modern computer methods in geography. The workshop took place in one of the modern computer classes of TSU which granted an opportunity for the students to work with special software which uses the newest methods of geographic modeling.
At the end of the workshop conclusion was made, the students could ask their questions and received answers.
Vladimir V. Vozdvizhenskiy