1 July 2021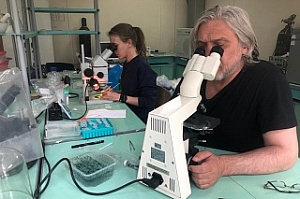 TSU Biological Institute scientists are investigating the determinants of the spread of parasitic invasions in Russia - dirofilariasis and setariosis. The carriers of these diseases are malaria mosquitoes. These helminthiases are characteristic of Mediterranean countries and Africa, but recently they have begun to occur in areas with a colder climate, in particular, Western Siberia. TSU scientists are carrying out large-scale research to find out which types of mosquitoes are involved in the transmission of the infectious agent and what factors contribute to the spread of the disease.
Animals more often become victims of dirofilariasis, but people are also susceptible to this disease. In Russia, as a rule, there is a subcutaneous form of it and in addition to this, the organs of vision can be affected and extremely rarely the heart and lungs. Setariosis (common in Europe and Central Asia) affects cattle, small ruminants, and horses. Sometimes this leads to the mass death of animals. Human infections also occur.
- The advancement of dirofilariasis in northern latitudes is associated by most researchers with global warming. Climate transformation causes not only a geographical shift in the optimal conditions for the development of the parasite, but also the migration of infected animals, and the carriers of the invasion themselves - mosquitoes, says Gleb Artyomov, head of the Department of Genetics and Cell Biology at the Biological Institute.

As biologists note, to develop effective strategies for combating vector-borne diseases, it is important to know which species of insect specializes in the transfer of a particular pathogen.
Scientists are conducting large-scale research. Sampling is planned in five regions: Tomsk and Novosibirsk regions, Altai Territory and the Altai Republic, and Khanty-Mansi Autonomous Okrug. The total route from south to north will be more than 2,000 kilometers. The research will be carried out at the intersection of several disciplines: parasitology, entomology, population cytogenetics, and molecular genetics. The project identifies species of mosquitoes that are potential sources of various invasions and infections whose target may be humans.
Scientists will utilize genetic analysis, which will be performed at the Department of Genetics and Cell Biology. It will show who o prefers this or that type of mosquito as hosts. The researchers selected five model populations with the highest infestation and they will test more than 30 species of blood-sucking insects. Biologists will also conduct deeper analysis to find out whether there is a relationship between the presence of genetic polymorphism, mainly inversion, and the behavior and resistance of mosquitoes to the pathogen of dirofilariasis.
The data from this study are necessary to understand the severity of the epidemic situation for dirofilariasis and setariasis in Western Siberia, - note the TSU scientists. - New information about the biology of the invading pathogens will help to understand how the parasite, while developing new geographic territories, finds atypical intermediate hosts and adapts to unusual climatic conditions.