11 November 2020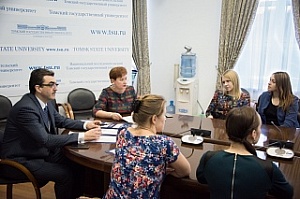 24 November – Digital Round Table "New Models of Educational Process Organisation, Novel Educational Practices and Internationalisation in the Post-COVID Reality"
Digital Round Table "New Models of Educational Process Organisation, Novel Educational Practices and Internationalisation in the Post-COVID Reality" will take place on 24 November.
Participants will include higher education professionals, representatives of student communities and employers from Russia and Europe. The event will also be attended by the European Union Ambassador to the Russian Federation Markus EDERER, German Ambassador to Russia Géza Andreas von GEYR, and the Governor of Tomsk Region Sergey ZHVACHKIN.
The round table will be divided into three sessions: "NEW CHALLENGES FOR THE EDUCATIONAL PROCESS", "ACADEMIC MOBILITY", and "SAFE CAMPUS".

KEYNOTE SPEAKERS FOR THE SESSIONS:
Stefaan HERMANS, Director for Policy Strategy and Evaluation, European Commission – DG Education and Culture
Ivan PROSTAKOV, Vice Rector for International Relations, HSE University
Klaudia KNABEL, Head of Scholarship Programmes Northern Hemisphere, DAAD Bonn, Germany
Nikita ANISIMOV, Rector, Far Eastern Federal University
Thomas ESTERMANN, Director for Governance, Funding and Public Policy Development, European University Association
Eduard GALAZHINSKIY, Rector, Tomsk State University
Objectives. The rapid spread of the Covid-19 outbreak has had a tremendous social, economic and health impact across the world. One of the sectors that had to quickly adapt to the new circumstances was the higher education system. The number of challenges and risks that universities have faced from the very beginning of the Covid-19 pandemic is enormous and are in many ways common for higher education systems in many countries. A vast majority of universities had to close down their campuses and rapidly switch to remote learning and teaching. International student, researcher and university staff mobility was among the first victims of the pandemic due to travel disruptions and closure of national borders. These and numerous other challenges were new to many universities, and often successful mitigation approaches depended on creativity and non-conventional solutions.
Now that we are still in the midst of the pandemic, we can already start to analyse the lessons learnt and exchange experience and best practices. Moreover, we can reflect on the gaps that were revealed by the pandemic and ways to adjust the higher education system and make it more resilient to possible future crisis.
The Round Table will bring together officials and experts from Russia and the EU to present and discuss these issues from the Russian and European perspectives. The aim is to collect best practices and discuss innovative solutions that could be presented to policy-makers for further uptake and dissemination.
The programme is available here.
Time: Tuesday, 24 November 2020, 11:00 – 14:00 (Moscow time)
Language: English and Russian (simultaneous interpretation will be provided)
Streaming of the sessions will be available on YouTube