23 April 2019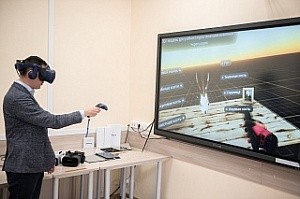 TSU has opened the first Russian laboratory to develop IT solutions that will use virtual and augmented reality for teaching, conducting research, and creating new breakthrough technologies that increase production efficiency, at the Institute of Applied Mathematics and Computer Science.
- The laboratory, created with TSU's partner the IT company Rubius, is the central segment of the large-scale digital project Virtual University 4.0, - says Alexander Zamyatin, director of the Institute of Applied Mathematics and Computer Science. - Over the past year, the University has set up the laboratory with advanced equipment that enables us to develop and test new digital products and technologies. One of the key activities is creating an open platform and developing libraries of virtual tools for assembling educational courses. With such a VR-designer, teachers who don't have special training in IT will be able to design high-tech educational services and applications according to their own scenario.
This project is pioneering not only for Russia but also for the world, because previously such platforms were used primarily for scientific research. For educational purposes, programs with VR/AR tools are created only by request of large corporations for corporate training. The open platform UniVRsity, which the TSU laboratory is currently working on, will use the unlimited possibilities of the virtual world to train schoolchildren, students, and employees of commercial and governmental organizations.
Along with this, the new laboratory will serve as a platform for training IT specialists with a new orientation, the need for which is increasing dramatically In Russia's transition to a digital economy. In September 2019, the TSU Institute of Applied Mathematics and Computer Science will launch a Master's program that will train professionals who are able to create new applications and services for work in virtual and mixed reality.
The new TSU laboratory will also create innovative products for tasks set by the customers, and actively promote them in the Russian and international markets.
- The project has already passed the Skolkovo expertise, and within several months we will become residents of the innovation center that will help us to commercialize the platform,- said Anton Kudinov, technical director of the company Rubius, during the opening. - The platform will have a separate legal entity with an address in Technopark. Thus, the project will be able to officially attract investment and enjoy all the benefits and preferences, convenient infrastructure, and access to a world-class investment platform available there.