4 March 2019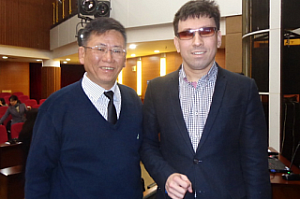 The University will send proposals for collaboration to Chinese companies and universities following the event Internet + Training for People with Disabilities held by APEC (Asia-Pacific Economic Cooperation), which took place in China at the end of December. Mikhail Pozhidaev, Associate Professor of the Department of Theoretical Foundations of Informatics, lecturer at the TSU Institute of Applied Mathematics and Computer Science, and Elena Teplykh, a junior researcher at the Laboratory of Interdisciplinary Research, took part in it at the invitation of the organizers.
Mikhail Pozhidaev received the invitation because he created a software product for visually impaired and blind people that can be used in educational programs. Having learned about this development, the representatives of APEC decided to include him among the Russian participants of the forum.
- The event gathered people with various health problems who are doing or want to do business, most likely in the social sphere. The mission of this event was to hold a series of meetings and trainings and share experiences. To this end, representatives of 18 countries came to Guangzhou for a week. There were four representatives of Russia and participants from Chile, Vietnam, the Philippines, Indonesia, Papua New Guinea, and other countries, - says Mikhail Pozhidaev.
Tomsk State University is now preparing a series of official letters with a proposal for collaboration, which will be sent to several organizations of the PRC - for example, to the Can You Group alliance. It includes a company that develops assistive technologies; the division that attracts people with disabilities to perform various work of a commercial nature; and the Accessibility Research Institute. Mikhail Pozhidaev met and talked with the head of Can You Group during his trip.
- We plan to ask this alliance for advice to build the right economic model of their work with people with disabilities. In turn, Can You Group could present TSU projects in this area on the social platforms of the PRC, - notes Mikhail Pozhidaev. - We also talked with representatives of the China Disabled Person's Federation (this is an analog of the All-Russian Society of Disabled People), the President of the Guangzhou Blind People Community, and the Director of the Guangzhou University School of Economics. We also discussed possible collaboration with them.
In the course of communication, it turned out that in China there is no mass learning of such a profession as programmer among visually impaired and blind people. Tomsk State University has experience in this, and the University can help this educational program to spread to other countries. In particular, it will be offered to the University of Guangzhou.
Mikhail Pozhidaev is the author of this application for the visually impaired and blind people that accelerates work on a computer for people with vision problems and makes it more comfortable.
It enables access to all the resources of the TSU Research Library, making up documents, studying programming, and reproducing and creating textbooks in the DAISY format.