5 February 2019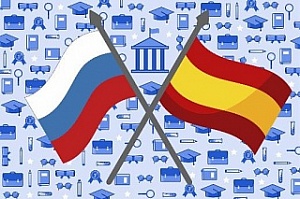 Eight Spanish and Russian universities have announced the creation of an academic alliance that will develop collaboration and strengthen cultural and, in particular, scientific and educational ties between the two countries. Four universities became initiators from the Russian side: TSU, MISIS, RANEPA, and the Russian Foreign Trade Academy. From the Spanish side, the alliance includes the University Carlos III of Madrid, University of Oviedo, University of Valencia, and Rovira i Virgili University.
The signing of documents between universities is planned in April. The number of participants is expected to grow because other universities are showing interest in the project. The authors of the initiative hope that over time the alliance will become a platform for conducting civil dialogue between Russia and Spain in various areas. The meeting of the participating universities was held in Moscow under the auspices of the Embassy of Spain in Moscow.
- So far there are no students from Spain at TSU, but already more than 20 students are from Spanish-speaking countries in Latin America. And actually, students from Spain can be interested in studying with us, just as now Italian students are. The alliance collaboration will develop not only in humanities and language but also in technical sciences, where Spain is very heavily invested. We are interested in mutual collaboration, - comments Artyom Rykun, TSU Vice-Rector for International Affairs.
He added that there are plans to exchange students in those disciplines that are of interest to all parties, summer and winter schools, and further, scientific interaction or joint programs.
Over the past 10 years, TSU has concluded collaboration agreements in science and education with five Spanish universities: Cordoba, the Balearic Islands, Murcia, Santiago de Compostela, and Granada. In addition, joint projects in botany are developing with the University of Zaragoza, and in physics we collaborate with the University of the Basque Country. TSU also works together with the Russian-Catalan Cultural Center "Commonwealth" in Barcelona.
- We hope for qualitative development in collaboration with the University of Valencia, one of the strongest in Spain, and the University Carlos III of Madrid, because this is one of the most dynamically developing universities in the country. For some types of the Erasmus program, they are leaders in Europe, they have a very large number of international students, and most importantly, more than 60% of the programs they teach are in English, which is unusual for Spanish schools, - said Artyom Rykun.