30 January 2019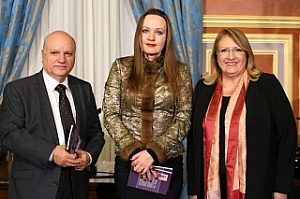 A TSU graduate, Yana Psayla, has presented her translation of the book of the Maltese writer Trevor Zahra at the San Anton Palace, the official residence of the President of Malta. Jana is the first translator of works of art from the national language of Malta into Russian. The event was attended by by Marie-Louise Coleiro Preca, the President of the Republic of Malta.
The story "Challenges" tells about the adventures of the company of teenagers during the summer holidays: they throw each other challenges, which take a dangerous turn. The book was awarded the National Literary Prize of Malta in 2005 in the category "The best book for young people", the Russian translation has appeared on the Russian book market in the fall of 2018.
- The translation of the story was easy because, with the help of certain translation solutions, impressive equivalents of phraseological units, expressing a similar idea through images typical of the language picture of the Russian reader's world, were always found - said Yana Psayla. - The quality of translation depends primarily on the degree of the bicultural status of the translator, which consists in a good knowledge of not only the language but also the mentality of both nations in order to adequately interpret the realities of the original in the translated text. But despite all the remoteness of the linguocultural milieu of Malta and Russia, there were complete equivalents of speech, which indicates a certain commonality of the phraseological foundation of both languages at the junction of universal concepts common to all mankind.
The presentation of the story was organized under the auspices of the President of Malta, Marie-Louise Coleiro Preca. She attended the presentation, and after she reported on the past event on her Facebook page.
Also present at the presentation were Ambassador Extraordinary and Plenipotentiary of Russia in the Republic of Malta, Vladimir Malygin, ex-President of Malta, Ugo Mifsud Bonnici and Andrey Muraviev, Counsellor, Director of the Russian Center for Science and Culture. The event was held with the organizational support of the Embassy of the Russian Federation to the Republic of Malta and the Russian Center for Science and Culture in Valletta.
Yana Psayla is the author of the first Russian-Maltese and Maltese-Russian phrasebooks in the world and the first translation of the Maltese novel into Russian; this is Trevor Zahra's novel "The Secret Life of Grandma Genoveffa". In addition, a TSU graduate has published her own collection of poems in the Maltese language and translated several works by Vladimir Vysotsky. Her books are included in the Library of the President of Malta.