12 December 2018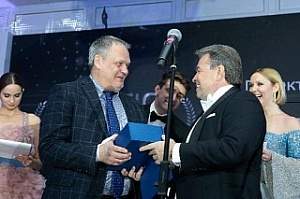 Sergey Kirpotin, director of the TSU Center for Excellence Bio-Clim-Land, won the Arctic Awards 2018, established by the Arctic World Club and the Association of Polar Explorers. The Tomsk scientist is engaged in research on climate change and is the only Russian participant in the new large-scale international project T-MOSAiC, which organizes ground-based research in the Arctic Region.
- The attention of scientists from all over the world is riveted on the Arctic, but the available knowledge and data are still not enough to fully understand what is happening in this region, notes Sergey Kirpotin. - To understand the essence of these global processes, new large-scale studies are needed, and T-MOSAiC is involved in organizing and realizing them. Scientific projects implemented under the auspices of this consortium should not only provide new information about the transformations that our planet is undergoing, but also help to fairly accurately predict further changes.
TSU's contribution to the T-MOSAiC project lies primarily in the fact that the consortium's research concept was based on the megaprofile approach developed by Bio-Clim-Land. More than 10 years ago, they began creating a network of research stations that stretches from north to south and is used for year-round observations and experiments.
The network of research stations is constantly expanding both through new TSU bases and through the addition of new stations from other research centers. Sampling at the stations is carried out according to uniform protocols, which allows continuous monitoring of environmental changes using various parameters and obtaining comparable world-class data. Now the mega profile stretches more than 2500 kilometers from Mongolia to the deep Arctic. A similar research strategy is being introduced in the United States, Canada, and some other countries.
- I do not consider this award to be personal,- said Sergey Kirpotin during the ceremony. - I work in a team, a large number of people stand behind me, and this is very important. You know, there is a Russian proverb, "One is not a warrior in the field" (one man, no man), and in the Arctic one is not only not a warrior, but he or she is also not simply a tenant. T-MOSAiC brings together like-minded people who are in love with science and the Arctic, and I am glad that this project has received such high recognition.
To select the most worthy applicants for the prize, its founders examined 2,500 projects implemented in 120 countries. The short list included more than two dozen individuals and organizations from around the world. Among the nominees were the project T-MOSAiC, the program Iceberg Towing, developed by the Arctic and Antarctic Research Institute, an improved floating nuclear power unit, and other projects.
The photo is from the Arctic World Club Facebook page