24 October 2018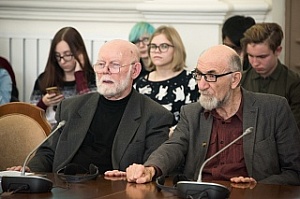 From October 15 to October 18, the 29th Annual International Scientific Conference Language and Culture, dedicated to the 140th anniversary of Tomsk State University, was held at TSU. The participants were from Russian and international universities and teachers in Tomsk schools with in-depth study of foreign languages.
The history of the conference begins in those years when there was no Faculty of Foreign Languages at TSU. Despite this, Svetlana Gural, then the head of the Department of English Philology, was able to initiate such an event, which gradually became a tradition. Tomsk State University is invariably the host of the conference. Over the years, the Language and Culture Conference has become a large-scale event.
Two more events took place at the conference. One was the 2nd International Workshop on Cognitive Linguistics and Pragmatics, which was held entirely in English. World professors took part in it, and our students and teachers were able to listen to their presentations and participate in the discussion. The second event was the annual international scientific forum The German Language in the Modern World.
The three-day conference included plenary sessions and the work of 18 sections. Teachers and students made reports on topics related to interdisciplinary research of culture and intercultural communication; language and culture in the perspective of a cosmic worldview; and the current status of the German language in Russia and other countries of the world in relation to language pedagogy research.
- We have nine languages taught at TSU, and a native speaker works with students for each of them. All the results of this work were presented at this conference, explains Professor Svetlana Gural, Honored Dean of the Faculty of Foreign Languages. A total of 380 reports were made. Summarizing the results, everyone gave a very high assessment of the event - people said that that the conference was comparable to a symposium or congress of world significance.
The geography of the Language and Culture Conference has once again confirmed its international status - among the speakers are well-known scientists from Germany, Italy, Great Britain, USA, and Brazil. Russian participants were from all the geographic regions of the country: Pyatigorsk, Ivanovo, Moscow, Saint Petersburg, Nizhny Novgorod, Perm, Yekaterinburg, Chelyabinsk, Tyumen, and other cities.