11 August 2018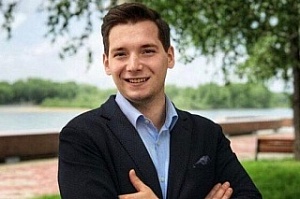 Forbes China has published the rating of the most successful people under the age of 30, with 30 of the most successful people in 20 different spheres of activity, including business, show business, sports, culture, and high technologies. Simon Zagaynov, a graduate of TSU's Faculty of Foreign Languages, entered the Marketing and Advertisement top-30 list.
- I'm glad to be on such a list, especially knowing the situation of intense competition among young businesspeople in China. At the moment I live in Shanghai. This city has its own energy that forces you to put forward your best,-says Simon Zagaynov. I want to thank the Faculty of Foreign Languages, where I got a Bachelor's degree in Linguistics (Chinese and English languages) in 2012, as well as the entire teaching faculty. Studying there, I was not only taught different language skills but also was given an opportunity to see the world through the perspectives of other languages. It helps me to think out of the box and achieve a lot in the international arena.
Forbes invited 69 famous businesspeople, heads of venture capital funds, artists, heads of business schools, professors, and industrial specialists, to be experts and evaluate candidates using three parameters: the level of influence in his or her own sphere, in the sphere of a professional activity, and in the sphere of innovations.
Forbes China notes that the competition in science and high technologies is becoming tougher, and more young entrepreneurs are becoming leaders of industry because of the technologies' penetration in different spheres of human activity. Russell Flannery, Forbes China's chief editor, states that China is in its golden age of entrepreneurship because young people, unlike their predecessors, can manage technologies and capital for innovations more effectively.