23 January 2017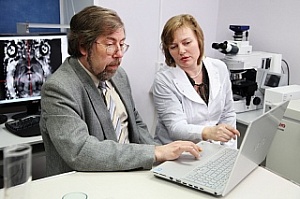 Researchers at the Laboratory for Neurobiology of the TSU Research Institute of Biology and Biophysics, within the state tasks, are testing and will introduce a technology that will help clinicians to accurately diagnose neurological diseases. The new method is based on the assessment of the membranes of nerve fibers (myelin) as one of the main indicators of the health of the brain.
The development of this diagnostic technology became possible thanks to the results of a project performed by an international team of researchers supported by the Russian Research Foundation in 2014-2016. A revolutionary technique that non-invasively assesses the amount of myelin in white and gray matter of the brain using magnetic resonance imaging (MRI) was created under the guidance of Vasily Yarnykh, professor at the University of Washington (US), a leading specialist, and the supervisor of the Laboratory for Neurobiology.
The new diagnostic technology is based on the receipt of special mathematical procedures for processing MRI data, so-called myelin cards - imaging of the brain that reflects the number of nerve fiber membranes similar to, for example, the terrain may be represented schematically on maps.

- The results of our studies on laboratory animals have shown that the new method for its accuracy and reliability is no different from histology, but it is non-invasive and can be easily applied in the clinical setting, - said Professor Marina Khodanovich, head of the Laboratory for Neurobiology.

Professor Vasily Yarnykh notes that myelin maps detect microscopic changes in brain matter that cannot be detected by conventional MRI, and thus open up entirely new possibilities for clinical diagnostics.

- We are planning clinical testing of our method with a number of socially significant neurological diseases, including stroke, multiple sclerosis, and Parkinson's disease, - said Professor Yarnykh. - Mapping of myelin will assess the extent of brain damage, as well as the speed of its recovery in the rehabilitation of patients.