18 August 2016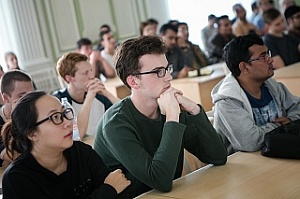 International summer schools for young international students started their work at Tomsk State University. Students from India, the UK, Italy, Slovakia, the USA, Finland, Zambia, Norway, Zimbabwe, and other countries gathered in Tomsk to be trained in TSU.
Today, the university administration, faculty, and international students were present at the opening ceremony of the summer school's season. Victor Demin, Vice-Rector for Academic Affairs told international guests of Tomsk State University about the programmes that TSU offered them.

The five schools in various areas began to work in TSU. Students will learn the Russian language and cross-cultural communication, management and information technology. In addition, another TSU international summer school on geology, geography, and ecology of the Asian highlands, which took place on the basis of the TSU research station Aktru in the mountainous Altai, was held in July. Also in spring training school of Russian language was held for students of the University of Leeds (UK).

- The peculiarity of the current summer season is that we have opened three new schools, and started to carry school on demand, - says Lydia Dmitrieva, head of the International Student Services Centre. - For example, a school in Aktru was held at the request of the leadership of one of China's largest universities - the Sun Yat-sen University, and the programme has been developed specifically for them. We will continue this practice and already we are preparing for the winter school of our partner universities.

Participants of the summer international schools will not only attend courses in their areas. Extensive excursion programme, which allows getting acquainted with the culture and history of Siberia and Russia, was prepared for them. They will visit Tomskaya Pisanitsa Museum, Tomsk temples, and Kedrovaya Zaimka.

Some memorable gifts - T-shirts, brochures, and notepads with the symbols of TSU were awarded in order to international students can take with them home a particle of Tomsk and the University.