16 August 2016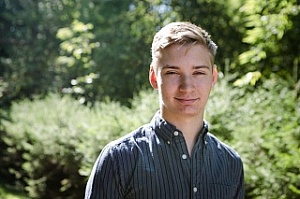 Daniel Levin is studying in a private school in Boston. Every year during the holidays, he prefers not to sit at home and go to other countries - to learn languages, to get acquainted with the national culture, to acquire new knowledge. Current vacation he decided to spend in Russia, Tomsk State University.
In Tomsk, Daniel arrived at the invitation of Michael Myagkov, Professor at the University of Oregon, who is also a scientific director of the two TSU's laboratories. A special residence programme was designed to the young trainee: for five weeks, he will work in these laboratories and will be trained in the Summer School of the Russian language, which is annually organized by the University for international students.

- I have been studying the Russian language for a year, and decided that a trip to Russia will help me to learn it better, to learn more about your country, - says Daniel Levin. - I also like to study psychology, but this training provides me this opportunity. In addition, I have always been interested in trying the forces in writing programs. Last summer, I became acquainted with the programming on the example of the Java language, but new to me Python language that I'm studying here, like me more. At first, I found it difficult to speak and understand the Russian language. Now I'm experiencing some difficulties, but it became much easier. A similar situation was with the programming. But I always have the assistance and explanations if there is something I do not know - says the trainee.

The first two weeks, Daniel worked in the Laboratory of Big Data and Problems of Society, where under the supervision of Vyacheslav Gojko mastered programming in Python and studied analysis of friendly ties in social networks. In the second laboratory – Experimental Methods in Social and Cognitive Sciences - he will conduct experiments aimed at the study of collective interaction and social decision-making mechanisms, to gain experience with the equipment used for control of psychophysiological indicators of human activity with senior colleagues.

During the five weeks here Daniel wants to know the University, the city and acquainted with the different people. In the USA there are certain stereotypes about Russia and Siberia, but the TSU's guest considers that they do not correspond to reality.

- You have very friendly and hospitable people - he smiles. - In the family, where I'm living now, the dinner often assumes guests. In the USA, we usually have the only family to gather for dinner. Also the fact that in Russia people often greet each other by shaking hands was unusual for me. In the USA handshake is used only during the first meeting or to show the respect to a very important person.