15 June 2016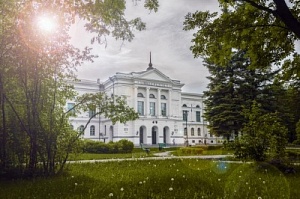 1. Programme description
MSc Human Development: Genetics, Neuroscience and Psychology is specifically aimed at those pursuing a research career or professional career in educational, clinical and other professional settings. This interdisciplinary programme provides training in basic scientific and technological principles of modern research methods, and their application to understanding and improving human development. The programme is implemented at the International Centre for Research in Human Development (ICRHD).
The International Centre for Research in Human Development is also a member of multiple consortia and networks, including Twin Registries, TAGC (The Accessible Genetics Consortium), INRiCHD (International Network for Research in Child Health and Development). Our international research partners from world leading universities include: King's College London; Goldsmiths, University of London; University of Sussex, Ohio State University, Laval University, Moscow State University and other.
Together with our partners, we promote research that is of direct relevance to clinical, educational, training and other types of practice – towards improving human development. With leading reputation, excellent infrastructure and extensive international links, TSU is a great place to be a student.
The programme is taught through lectures, seminars and workshops delivered by experts in the relevant fields. Assessment is through written and oral examination, coursework, presentations, research project, dissertation. Students may carry out the research project remotely supervised by our specialists.
Students can build individual study trajectories through interest-based electives, specialization and research projects in the following tracks: General; Early Child Development; Genetics, Bioinformatics and Neuroscience; Personalised Education: Diagnostics, Prevention, Correction, Talent and Creativity Fostering.
Core Modules
Interdisciplinary Study of Development

Individual Differences

Research Methods

Behavioural Genetics

Data Analysis

Neuroscience and Cognitive Science

Academic Writing, Publishing and Presenting

Experimental Psychology

Ethical, Legal and Societal Issues in Research
Options (students will choose 3 out of 6 options)
Child Development Programmes

Cognitive Technologies

Bioinformatics

Language and the Brain

Aetiology of Developmental Problems

Linguistics in the System of Natural Science
2. Programme objective
Students will develop a foundational knowledge of all aspects of human development, including biological foundations of individual differences, gene-environment processes, brain mechanisms, cognitive and other psychological processes.
Students will acquire the principles and main aspects of data acquisition and analyses, and gain a good working knowledge of modern methods for scientific investigation of human development. The design of the course aims to maximise students' transferable skills, including training in publishing in leading academic journals, presenting at international conferences, and translating research to practice.
3. Career prospects
Top career destinations for this degree:
PhD (Aspirantura) in any of the programme disciplines or interdisciplinary research

Educational practice, administration and policy making

Science communication

Industry (employment, diagnostics, training, data analysis etc.)

Cognitive and neuro-technologies
Students on this programme are immersed in a world-class international interdisciplinary scientific environment, taught by leading experts in the fields. The programme is relevant for educationalists, clinicians and policymakers – equipping them with sound understanding of cutting edge knowledge about human development. The programme is also relevant for researchers – equipping them with theoretical understanding and methodology for interdisciplinary research into human development. Students will benefit from active research environment and excellent infrastructure.
4. Programme facts
Programme name: Human Development: Genetics, Neuroscience and Psychology
Offers: Master degree in Psychology
Language: English
Tuition Fees (2016/17) is 174 800 RUB per year;
Best Students can qualify for 50% discount per year, based on the results of mid-programme assessments. In 2016/2017 best students on the programme will get an opportunity to complete 6 months of the programme at Goldsmiths, University of London.
Programme status: Full-time: 2 years. Campus based (intensive 2-3 week study/assessment sessions in September, December, February and June in Year 1 & September, December & February in Year 2) + Distance learning elements, supported by our Virtual Learning Environment
Duration: 2 years
Start of studies: September 2016
Entry requirements: Bachelor's (BSc)/ Specialitet degree in an appropriate discipline or an overseas qualification in a relevant subject. Students with other qualifications may also be admitted if they possess relevant experience in a field related to any of the programme disciplines.
English Language Requirements: If your education has not been conducted in the English language, you will be expected to demonstrate evidence of an adequate level of English proficiency.
Admission: exam in Psychology; CV/Resume, Motivational Statement.
Programme contact details:
Tomsk State University
The International Centre for research in Human Development
Russia, 634050, Tomsk,
8, Moskovskiy Trakt,
Phone + 7(3822(786 050)
Web: The International Centre for Research in Human Development - http://en.science.tsu.ru/centers/research-in-human-development/
MSc programme information and application form - http://ihde.tsu.ru/coglab/neuroscience_eng.html
Programme manager: Maksim Likhanov E-mail: icrhd@mail.ru