23 October 2018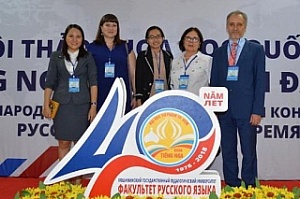 A TSU delegation has visited Ho Chi Minh City University of Education to discuss an agreement on testing for Russian as a foreign language. Tomsk State University has received the right to be the leading institution of higher education on testing for RFL and can now have branches in Russia and other countries.
- Ho Chi Minh City University of Education is one of the best pedagogical universities in Vietnam, where Russian studies are well represented: more than 500 students study at the Department of Russian Language. This is actually key not only to highly developed and densely populated South Vietnam, but also to the neighboring countries: Cambodia, Thailand, and Myanmar, - said Artyom Rykun, TSU Vice-Rector for International Affairs.
As a result of the talks, Ms. Nguyễn Thị Tú, head of the international department of Ho Chi Minh City University of Education, agreed to open a local testing center for Russian as a Foreign Language. She also promised to provide support to the dean of the Department of Russian Language, Nguyen Thi Hang, who will lead the center in Ho Chi Minh City.
The agreed-on text of the contract will be completed within a month. At the same time, the parties have already agreed that about 50 people will take part in the first testing.
During the visit to Vietnam, TSU representatives also visited Hai Phong University, whose rector came to Tomsk in May to conclude a memorandum of understanding between the universities. The greatest interest among colleagues from Hai Phong was in Master's and postgraduate programs to improve the qualifications of teachers at Hai Phong University. As a result of negotiations , two or three teachers from Hai Phong will come to TSU's postgraduate school in the 2019-2020 academic year.
Also, TSU representatives met with the students and their parents at the Tran Phu Professional Senior High School. Artyom Rykun presented Tomsk State University and spoke about TSU's main educational programs and the adaptation programs for international students. For three years in a row, the High School's students have come to the TSU Summer School of Intensive Russian, and this tradition will continue in 2019.