9 June 2017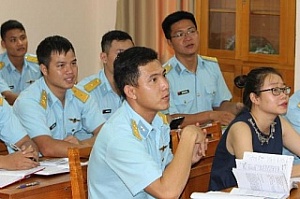 On June 19, the Summer School of Intensive Russian Language for high school students from the special school named for Trần Phú (Haiphong, Vietnam) will begin at the University.
The programme of Russian Language Week in Hanoi includes open lessons, lectures and master classes, presentations of universities, and consultations for Vietnamese teachers on the methodology of teaching Russian as a foreign language. As a result, all the teachers from Vietnam will receive a certificate of professional development.

- Tomsk State University and Tomsk are already very well-known in Vietnam due to the great work on advertising and recruiting conducted by the International Division. Many teachers from Vietnam choose us because TSU is more recognizable for them, - notes Svetlana Fashchanova, Deputy Dean at the Faculty of Philology for teaching international students. - Lectures and classes are perceived with great interest, and there are many questions and comments, because the teaching methods are different. Many teachers of Russian have studied in universities inVietnam and have never been to Russia.

This is not the first time that TSU teachers have come to Hanoi with open lectures, methodological seminars, and presentations of the University. In addition, they are engaged in popularizing the Russian language and involving teachers from Vietnam in continuing education programmes in Russia, Master's and Bachelor's degrees, and admission to graduate school.